Elegant newly renovated designer apartment in the heart of Seville and with spectacular views of the Giralda. Its location, 1 minute from the Cathedral and 3 from the Alcázares, is perfect for visiting the main monuments of the city. It consists of 4 bedrooms, 3 full bathrooms, a fully equipped kitchen and a spacious totally exterior living room with balconies overlooking Álvarez Quintero street. The space The apartment is located on the third floor of a house with an elevator. With an area of 180 m2, this spacious house consists of a large living room with a terrace and views of the cathedral connected to a fully equipped designer kitchen, also with exterior balconies. In the living room you can enjoy a comfortable sofa area along with another environment around a large table for 8 people where you can share a dinner. In the interior, quiet and private area, the four bedrooms are located. Between them, the two main rooms have balconies that fill the room with light and a private bathroom en suite, divided into a sink area, a shower cabin and a toilet cabin. The other two bedrooms have a choice of single or double beds, a wardrobe and a shared bathroom. The entire apartment has been recently renovated to ensure the total comfort of its guests, and for this the house incorporates a hot and cold system by air conditioning, as well as windows with high acoustic insulation with solar protection through blinds. In addition, it has comprehensive equipment, with high quality cotton bedding and towels, complete kitchenware and appliances, laundry area, free WiFi Internet, and elevator. The apartment has been recently published in ELLE Decoration Spain magazine. Its design seeks to offer a unique experience. With pure geometric lines, noble materials, and full of light, the design proposal seeks to recreate that local atmosphere, where the interiors seem exterior, taking up facades of Sevillian architecture or geometric motifs of the Cathedral of Seville on the marble floors. Services and common areas You can enjoy the entire apartment, as well as its enviable views of one of the most important streets in Seville.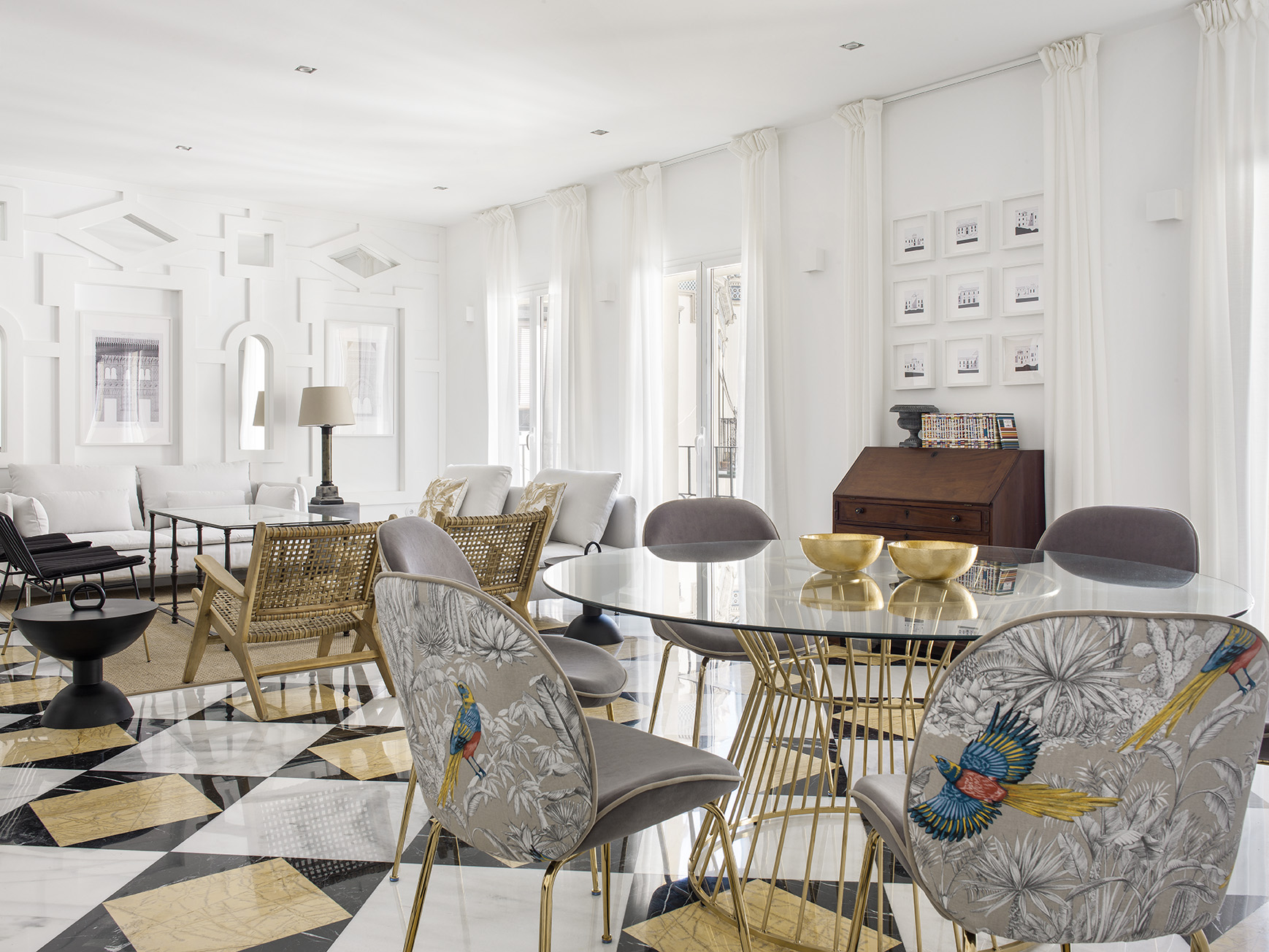 Standard rates
Daily: €400
Primera Septiembre
Daily: €300
Primera Septiembre
Daily: €800
Segunda Septiembre
Daily: €350
Segunda Septiembre
Daily: €250
Puente todos santos
Daily: €700
Puente Diciembre
Daily: €900
Primera Navidad
Daily: €1000
Segunda Navidad
Daily: €700
Media Maraton
Daily: €5000
Puente Andalucia
Daily: €5000
Primera Marzo
Daily: €5000
Segunda Marzo
Daily: €5000
Miercoles Santo
Daily: €5000
Puente Semana Santa
Daily: €5000
Puente 1 de Mayo
Daily: €5000
Interestellar
Daily: €5000
Sync Rate 12
Daily: €5000
Payment Policies
To secure the booking, a partial payment of 100% of the quote, is due within 0 day of guest confirmation of intention to book
Rules
- Check in time is from 15.00-00.00 outside this time range, it is subject to availability and extra charges may apply
- Check out time is before 12pm (noon)
- You should take care of the apartment as if it was your own.
- Between 11.00 pm and 8.00 am is considered quiet time. Please respect the rest of the neighbors, moderating the tone of voice, the volume of the TV, and music devices.
- Please have maximum respect for the common areas; leaving them as you find them and respecting the rules that govern their operation.
- Please make a rational use of the electrical appliances, particularly the heating/cooling systems, leave these disconnected when you are not home.
- It is important to check that the electric appliances stay disconnected on its use ends
- Make sure that when leaving the apartment the keys are not left in the lock inside, if this happens, it would require the assistance of a professional, whose fees would be charged to the guest.
- For security reasons, building entrance door must be closed each time you enter/exit the building.
- It is requested that once you finish your stay when leaving, turn off all the lights, disconnect all of the electrical appliances, turn off the gas, leave the key sets on top of the table in the living room and make sure the door is closed.
- Upon arriving at the apartment, in compliance with current legislation, all persons over 16 years old will be required to submit their documentation to the person meeting them so that they can complete the part of travelers required by the National Police and that their guests must sign.
- It is not allowed to have people staying overnight who have not been properly registered. It is a violation of Spanish laws and may entail fines
- Local laws don´t allow hanging clothes on the balcony or on the building façade.